Look, it's a post! Yes, I know it's not a pally post, but the 3.2-related stuff is still brewing.
4 July 09: Unfortunately this post has lost all its comments due to technical reasons.
Patch 3.2 brings with it WotLK's long-awaited epic gems. The item names have been known ever since they were datamined during the beta, but they've never been available until now.
What Gems Are There?
There are six new gems, of epic quality.
Red: Cardinal Ruby
Yellow: King's Amber
Blue: Majestic Zircon
Orange: Ametrine
Green: Eye of Zul
Purple: Dreadstone
What Cuts Are There?
As far as I can tell, based on datamined info from MMO-champion's internal DB, every uncommon/rare cut in WotLK has an epic equivalent except the prismatic "Enchanted" gems (the 'all stats' pearls).
Edit: as of PTR build 10072, there's now an "all stats" epic gem – the Nightmare Tear, +10 to all stats, unique-equipped, matches any socket, and requires a Dragon's Eye and 5 Infinite Dust to cut.
The values on the gems are increased by 25-33% over the rare cuts, except with mp5 (which is in line with the boost to mp5 on gear in 3.2). So a +16 attribute rare cut will be a +20 attribute cut in its epic versions.
I've revised the Jewelcrafting Quick Reference Sheet: WotLK Edition to include all of these cuts.
This table includes all jewelcrafting gem cuts excluding BoP gems that are JC-only. It is current as of 25 June 09.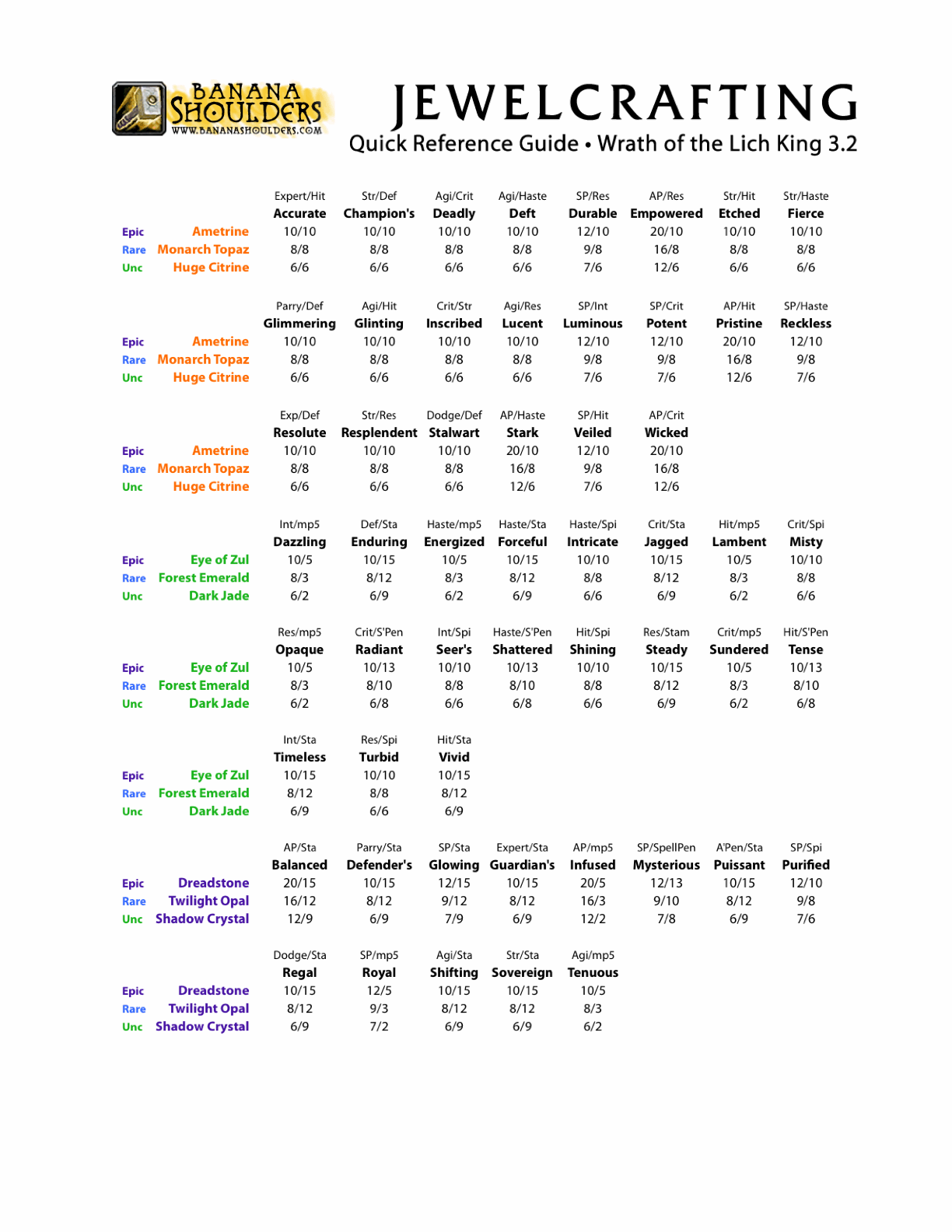 If you prefer it in PDF form, you can download a copy here: jc32a.pdf.
Last updated 25 June 09.
What Cuts Aren't There?
The 'prismatic' quality of jewelcrafter-only gems is being removed – the Dragon's Eye JC-only cuts will now have a specific color. Bold Dragon's Eyes will be red, Brilliant Dragon's Eyes will be yellow, and so on.
This will make it harder to meet socket bonuses and meta gem requirements for unpopular gem colors (*cough*blue*cough*), and many people had expressed a hope that Blizzard would add orange, purple and green JC-only gems.
Alas: such things are, so far, absent.
Where Do the Cuts Come From?
As you can see in the images linked above, there are 72 cuts for epic gems.
The patterns are BoP and require 450 Jewelcrafting to learn. They can be purchased from the Dalaran Jewelcrafting trainer, Timothy Jones, for 5 Dalaran Jewelcrafting Tokens each – so you'll need a whopping 360 tokens to buy 'em all.
Edit: As of 3.2 going live, the patterns cost 4 tokens each, requiring 288 tokens in total.
Where Do the Gems Come From?
Blizzard have made it pretty easy to get epic gems, but nothing's sure except death and taxes:
Jewelcrafting
You can prospect Titanium Ore for epic gems, although they're not guaranteed. As a guide, I just did 13 prospects (ie 65 ore's worth) and got:
4 epic gems,
3 rare gems,
20 uncommon gems, and
8 Titanium Powder (which can currently be used for a quest handin on the PTR; according to commenters Catreina and Megree, this rewards 1 Dalaran JC token per 10 powder).
Obviously, this isn't a big enough sample to get a realistic idea of drop rates; this could have been a very unlucky (or lucky) batch.
Edit: I just did another batch of prospecting (9th July, PTR build 10072) and 350 ore netted me 18 epic gems, 8 blue gems, 99 green gems and 62 titanium powder. This looks like about a 1-in-4 ratio for getting epic gems out of a prospect, which is pretty expensive given the scarcity of titanium; that will likely keep epic gem prices high.
Alchemy
You can transmute all six colors of gem. The transmutes for five of the gems are taught by the Dalaran Alchemy trainer, while the Cardinal Ruby transmute is taught by a quest from the same NPC. It's a simple quest, requiring you to complete 5 epic gem transmutes of any other color.
Edit: the transmute mats have changed; thanks to Simes for alerting me.
Red: Cardinal Ruby (mats: 1 Scarlet Ruby, 1 Eternal Fire)
Yellow: King's Amber (mats: 1 Autumn's Glow, 1 Eternal Life)
Blue: Majestic Zircon (mats: 1 Sky Sapphire, 1 Eternal Air)
Orange: Ametrine (mats: 1 Monarch Topaz, 1 Eternal Shadow)
Green: Eye of Zul (mats: 3 Forest Emeralds)
Purple: Dreadstone (mats: 1 Twilight Opal, 1 Eternal Shadow)
(Edit: Note that the mats for the Eye of Zul have changed again, as of build 10072; thanks to Michelle for the headsup.)
On the PTR the transmutes have no cooldown; however, Blizzard has given stuff a cooldown late in the testing process beforehand, so there's no guarantee they won't on this one too. (Edit: they now all share the same 20-hour cooldown timer as the titanium and Eternal elemental transmutes.)
Emblems
You can buy all six colors of epic gem from the Emblem of Heroism Quartermasters in Dalaran; they cost 15 Emblems each. (Edit: red, blue and yellow gems now cost 20 Emblems, and orange, green and purple gems cost 10 Emblems each.)
PvP
You can buy all six colors of epic gem from the Jewelcrafting Quartermaster in the PvP vendor centres in Stormwind and Orgrimmar. They're currently set at 10,000 honor, which is the same price as rare gems on live servers, so I suspect that price may increase.