Thanks for visiting - Banana Shoulders has retired! If you'd like to catch up with what I'm playing and writing lately, check out Siha Games!, my general MMO and gaming blog.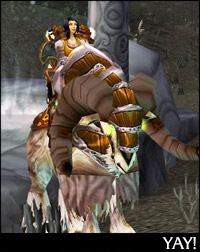 Dear Mister Direbrew,
I think you misunderstood my last letter.
But I won't complain. Thankyou!
Love,
Sailan and Mr. Sheepy
Liked this article? Why not subscribe?
About!

Name: Siha (aka Eleanor)
Rank: Guild leader, holy paladin, long-time gamer
Serial Number: Paladin playstyle; game strategy; theorycrafting; WoW news; tips and tricks; ...and anything else that comes to mind.

Like the Blog?

Why not...





Recently...

My WoW Code

N:Sailan, Mc:Pa80, Ms:Holy, Os: Ret, Mr: Hu, Alt:FMa80/ESh80, S:Proudmoore-US-PvE, G:Southern Wardens GMO+L+Heal, PvP, Pk:12074, PvE++, Y2005.1, D++, Ori:BWL/AQ40, TBC:B-TK/BT, WLK:B-EoE25, L++, R:Dr+/Or+/Un-, :), V0.3

Check it out at Typhoon Andrew.

WoW Linkage

Blog Linkage

Powered By


Banana Shoulders by Siha is licensed under a Creative Commons Attribution-Noncommercial-Share Alike 3.0 Unported License.

If you're looking for a web host, I can't recommend DreamHost highly enough. I have a discount I can share with signups - if you sign up using bananashoulders as a promo code you get $50 off your first year's hosting and a free permanent domain registration.

World of Warcraft™ and Blizzard Entertainment® are all trademarks or registered trademarks of Blizzard Entertainment in the United States and/or other countries. These terms and all related materials, logos, and images are copyright © Blizzard Entertainment. This site is in no way associated with Blizzard Entertainment®