So, it's official: Diablo 3 is the next Blizzard game. I'm having a heart attack and dying of not surprise, as Zazu would say; the rumours pointing to this announcement had become almost overwhelming over the last couple of weeks.
The haters and the forum trolls are alive and well, of course, but personally I'm excited. Diablo 2 apparently still holds the record for the fastest-selling computer game of all time; despite the claims of the haters, it's a much-loved computer series, and almost everyone I know is hyped to see it.
I HAZ A THEORY
I believe there are crossovers – connections, of some type – between Azeroth and the world of Diablo.
Consider, for instance, the similar abilities of some characters in the World of Diablo and in Azeroth. Paladins, as a stand-out example, have a lot of points of commonality between the two settings. (For instance, the core unique mechanic of Paladins in Diablo 2? Auras.)
And here are two pictorial pieces of evidence. First, someone on the MMO-Champion forums pointed out that there's a certain amount of similarity between the Lich King and Diablo.
And secondly, does this landscape look a bit familiar?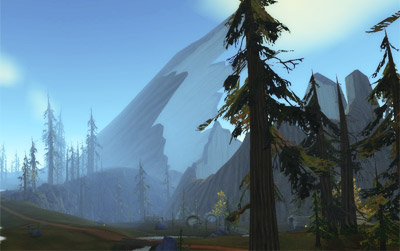 The image on the left is from the Diablo 3 cinematic trailer; the image on the right is a Wrath of the Lich King screenshot.
Perhaps Diablo and the other Prime Evils lie far in Azeroth's past… or future.